A new look to the Internet of Value !
Andreas Antonopoulos once said that about Bitcoin that :
"Bitcoin introduces a platform on which you can run currency as an application on a network without any central points of control. A system completely decentralized like the internet itself. It is not money for the internet but the internet of money."

Let's have a look to an awesome project by a French Team (NDLR : I am also French !).
If you go to their website : https://blockchain.io you will be pleased to see that the company behind this new venture is Paymium.

Paymium has been a Bitcoin/Euro exchange since 2011, and I personally used it since 2014. They have customers all over Europe and placed themselves as the go-to for Crypto/FIAT for the europeans.
I like this project for the new features they will bring to the crypto word through their next generation exchange.

Let's have look to what they offer.
A sum up of how the exchange is going to work
They are doing an ICO, they aim to raise $200 millions.
The Ico starts on September the 17th and end on the 31st of September.
The whitelist registration process can be found here : https://blockchain.io/token-sale/
I didn't do a typo, they are raising $200 millions to build a new Crypto exchange
Their new exchange will be :
Fully compliant & transparent

Exhaustive accounting records regularly audited. Aims to comply with all applicable regulations and international laws.
 

Ultra-secure & non-custodial

Encrypted cold storage and cryptographic proof of reserves.
Fair-exchange protocols to eliminate the counter-party risk.
 

Reliable infrastructure

Minimal downtime, restricted to maintenance, or migration. Resilience under high volume or DOS attacks. No technical debt.
 

Select digital currencies

Listing of currencies following a technical selection process (sustainability, technical and deep protocol reviews).
But what I like the most is the fact that the will not only Cather for us, lilt crypto trader but also for institutional !!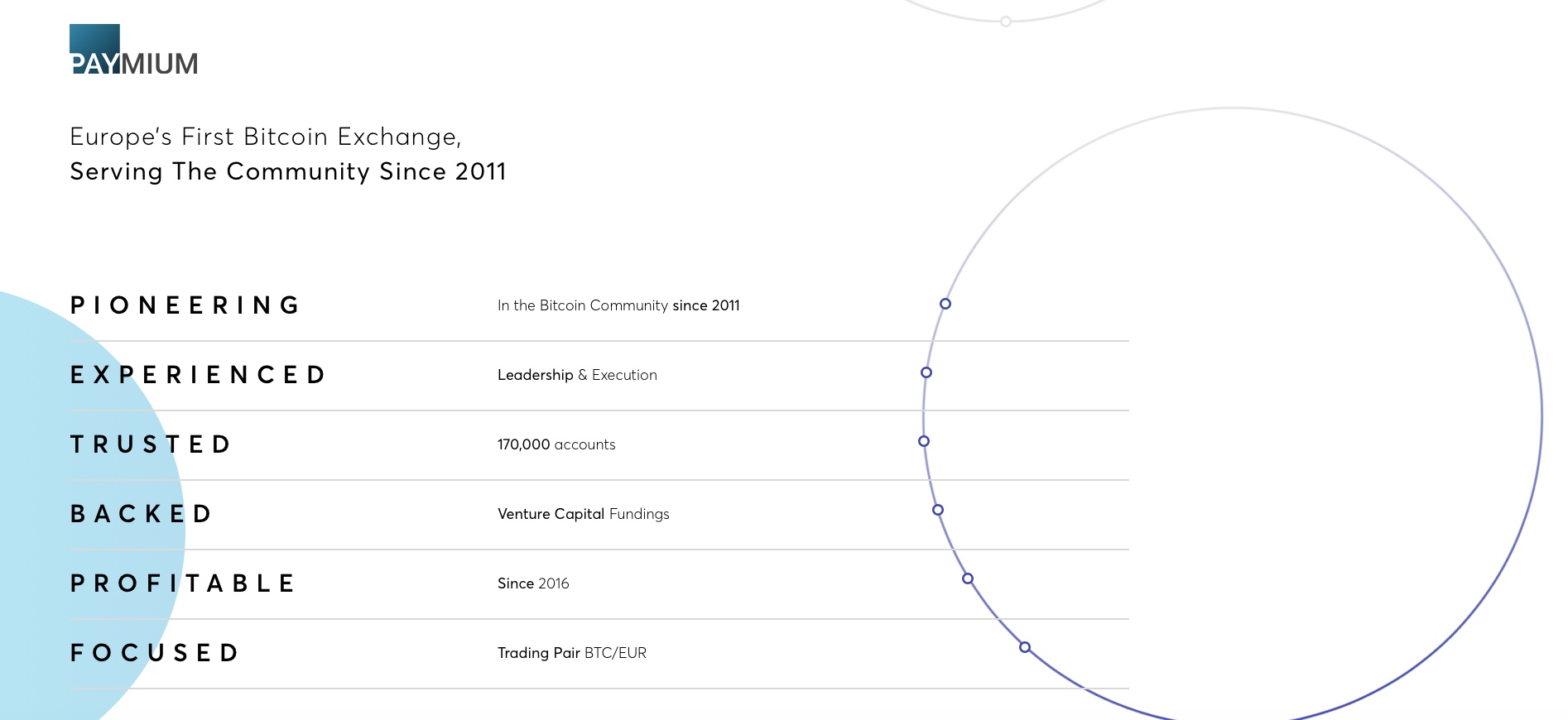 A solid base
Being operational since 2011 is definitely giving the paymium's team the skills to build a large scale exchange.
They already went through 2 cycle of bitcoin craziness : the Mt Gox madness of late 2013 and recently the crazy push of december 2017 through January 2018.

All of that without any incident.
What are the game changer ideas of this new exchange :
Like the Gemini exchange they will have Periodic auctions
These transparent auctions will happen several times a day to bootstrap new currency markets with an efficient price discovery mechanism. This is a great way to match buys and sell by people that don't want to trade the currency but just to cash-in or cash-out.
A feature that I have tried in the past when my bank account needed to be changed is the : 24 / 7 / 365 Support
According to their website they will have dedicated staff available at any time to answer customer requests and solve issues experienced on the exchange. I used the hotline of Paymium, it was smooth and was answered in French and in English. With the next wave of fresh out of boat clients, I am sure that they will be able to get proper support from Paymium.
Well, I hope that you will take time to review their manifesto / white-paper. The paymium team is definitely giving themselves the tools to achiever their ambitions. And I hope that they will be as successful as Binance.

William.
Bitcoin Christchurch - New Zealand